---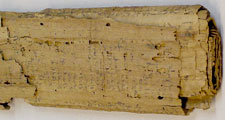 The objects in the Collection come from Egypt. They are written testimonies of 3,000 years of Egyptian history.
The catalogue contains information on the holdings of the collection.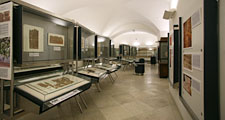 The showcases in the Papyrus Museum exhibit some 200 objects. Among them is the oldest papyrus in the collection, dating to the middle of the 2nd millenium BC and the most recent papers from the Islamic world of the 13th century AD.
The Department of Papyri with 180,000 objects is one of the largest in the world. In October 2001 the Papyrus Collection was included in UNESCO's list "Memory of the World" as a world documentation heritage site. The Collection's tasks include:
The preservation of its holdings
The acquisition of texts written on papyrus, paper or ostraca from Egypt
The scholarly study, catalogueing and publication of these texts
The presentation of these texts in the Papyrus Museum in exhibitions and educational programmes
Contact
Department of Papyri
Heldenplatz, New Hofburg
PO box 25
1010 Wien
Tel.: (+43 1) 534 10-425
Fax: (+43 1) 534 10-395

Opening hours and access
---
last update 12/2/2015