---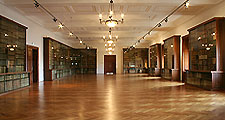 The collections of the Picture Archives
Department of Portraits, Pictures, and Fidei commis Library. Broadsheets, posters, ex libris.
Online search in research catalogues and picture platform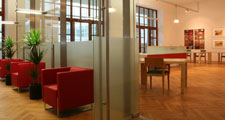 Information on research possibilities and reproduction commissions
The Picture Archives and Graphics Department of the Austrian National Library is the biggest centre of pictorial documentation in Austria. The holdings of the Archives join together several important historical collections: the Department of Portraits, the Picture Archive, and the imperial family's Fidei commis Library. Furthermore the collection of broadsheets, posters and ex libris. More than 1.6 million objects can be researched through internet in the catalogues of the Picture Archives and 200,000 pictures can be ordered online. Each year about 10,000 pictures are digitised to fulfil orders of clients. The Picture Archives is in addition the central place for ordering pictures from all Departments of the Austrian National Library.
The origins of the collection go back to the former "royal and imperial family Fidei commis Library" of the House of Habsburg, a comprehensive collection of portrait graphics, books, historic photographs and valuable objects of art. The core of the Picture Archives are more than 1 million photographic negatives with a wide spectrum of topics from portraits to photographs of architecture, historic documents, pictures of everyday life, to artistic photographs. The graphics collection of today includes more than 500,000 printed graphics, water colours and drawings, and the Fidei commis Library has some 116,000 volumes.
Contact
Bildarchiv der Österreichischen Nationalbibliothek/Picture Archives and Graphics Department of the Austrian National Library
Josefsplatz 1
Postfach 308
1015 Wien
Tel.: (+43 1) 534 10-337
Fax: (+43 1) 534 10-331

Opening hours and access
---
last update 9/3/2015