Vienna becomes a Metropole. The Ringstrasse and its era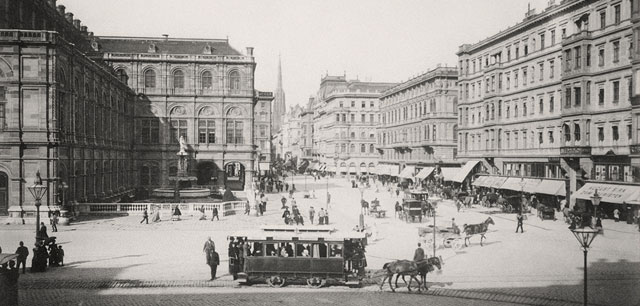 "It is my will …" – With these words at Christmas time 1857, Emperor Franz Joseph gave the green light to the redesigning of Vienna. In his handwritten letter published in the official Wiener Zeitung, the Emperor announced that the old fortifications would be demolished and the Glacis would be built on.
Work was begun on the demolition of the bastions as early as March 1858. The popular paths along the bastions and the glacis with its trees and meadows were replaced by an extraordinary and splendid boulevard, which was opened 150 years ago on 1 May 1865.
Like no other urban development project, the construction of Vienna's Ringstrasse marked the onset of Modernity and Vienna's transformation from a Biedermeier idyll to a European metropole. The demolition of the outer fortifications, where today the Gürtel stands, in 1894 brought a first end to this urban development transformation at the end of the 19th century.
The most outstanding artists of the Empire as well as gifted laypersons, genre painters, photographers and local authors were witnesses to this upheaval, and documented Vienna's metamorphosis into a metropolis in a variety of ways.
The exhibition of photos, graphic art, plans, caricatures and newspapers from the wealth of material kept by the Austrian National Library evokes the memory of this huge process of change: the conflict between "demolishers" and "preservers", the glorification of "old Vienna" and the fears of what was already becoming the melting pot of the nations. The extent to which the Ringstrasse was already being regarded as the place where the old aristocracy and the new bourgeoisie displayed their wealth, as well as being the expression of a huge wave of globalisation, is reflected in a manuscript from 1866, which is to be seen for the first time in the "Vienna Becomes a Metropole" exhibition. Written by a Vienna judicial official, the text with its accompanying newspaper extracts communicates, better than almost any other work, the feeling of life at the time.
Location
State Hall, Josefsplatz 1, 1010 Wien
Duration
21. Mai – 1. November 2015