Between Königgrätz and Córdoba. News that moved Austria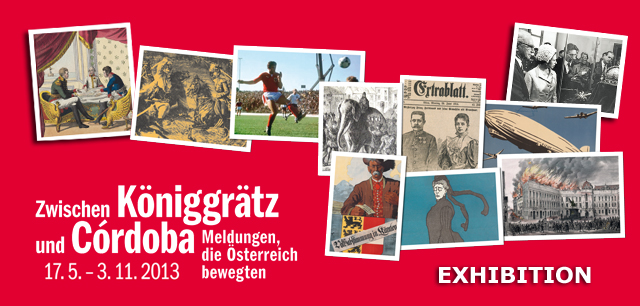 The exhibition "Between Königgrätz and Córdoba", in the State Hall of the Austrian National Library presents a brief and fascinating history of Austria in headlines and pictures. The cultural and historical arch extends across a wide variety of news reports from the last 500 years, revealing what has anchored itself within the country's national memory or has even achieved the status of a myth, making its own contribution to the country's sense of identity.
The Battle of Königgrätz in1866 and the football match in Córdoba in 1978 comprise two extremes of Austrian sensitivity: on the one side the fatal military defeat by the Prussian army, on the other side the gracious God of football that gave the country a historic victory over Germany in 1978. Title stories and sensational reports from all fields of public life, from politics through business, sport and culture to society, are brought together to provide an enthralling overview of the important historic events in Austria.
Location
State Hall of the Austrian National Library, Josefsplatz 1, 1010 Vienna
Duration
15 May 2013 - 3 November 2013