Ways to immortality. Death cult and the afterlife in ancient Egypt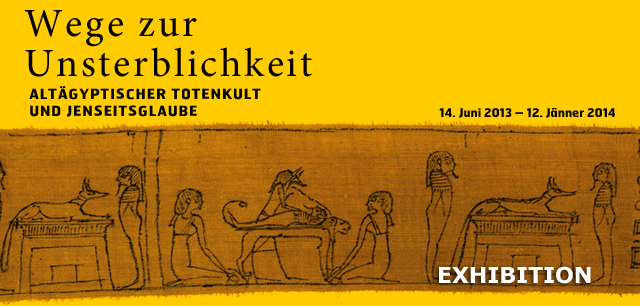 The exhibition at the Austrian National Library's Papyrusmuseum presents and explores ancient Egyptian beliefs about life after death. "Ways to immortality" displays more than 80 impressive objects from the library's valuable collection of papyri which was included in the UNESCO Memory of the World register in 2001.
The exhibition focuses on the ancient Egyptian books of the dead. These "books" were used for over 1500 years and contain a compilation of spells thought to equip the dead with knowledge and power which would guide them safely through the dangers of the hereafter and ultimately ensure eternal life. Today, their coloured images and magical texts open a window to the fascinating and mysterious world of ancient Egypt.   
Location
Papyrus Museum of the Austrian National Library, Heldenplatz, 1010 Vienna
Duration
14 June 2013 – 12 January 2014